Servant Leadership.... As we follow Christ...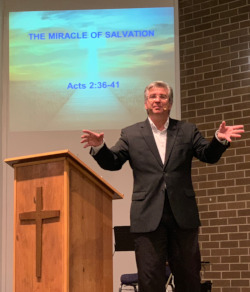 Pastor Laurian
While Laurian is a recent California refugee, wishing he would have known that Idaho was so much more than potatoes, believes that all of life's experiences and training was "for such a time as this," God's will and purpose at Trinity, Boise and the Treasure Valley.
He and Puscha, his wife of twenty-nine years, came to Boise from northern California to serve as Senior Pastor at Trinity at the beginning of 2018.  Marc, his older son is married to beautiful Debralyn and living in Chicago, while Brandon, his youngest son, lives and works in San Diego, because he loves the ocean.
Both Laurian and Puscha were born in Romania and came to the U.S. at a very young age.  Pastor Laurian grew up and lived most of his life in Chicago.  While having been blessed to attend Christian schools from the day he arrived in the States, he was led to garner his Biblical training from Liberty University and Trinity Evangelical Divinity School.
Pastor Laurian has been in ministry since his early twenties and has pastored churches all across the country, held evangelistic services throughout Europe and planted ministry groups in the U.S.  In 2003, he started Seraphim Fellowship in Jesus Christ in Ottawa, IL, a church that ministers to skydivers all across the U.S.
The Lord led Laurian from Chicago to the West Coast for seven years in preparation of the work that God would call him to Boise.
Laurian enjoys all the activities that would lead him to intersect the lives of those that are hungry for the love of God.
One his favorite passages of Scriptures, that summarizes his ministry is….
22 ….I have become all things to all people, that by all means I might save some. 
23 I do it all for the sake of the gospel, that I may share with them in its blessings.
         1 Corinthians 9:22-23
Having said that, he enjoys riding his motorcycle with his wife and sons, getting a breath of fresh air while skydiving, admiring God's creation while scuba diving with his sons, fly fishing with his brothers from our church fellowship and chasing angels while skiing.
Pastor Laurian loves being with people and teaching the Word with passion and contagious clarity.  He loves serving the Lord together with the elders and the Trinity family.
---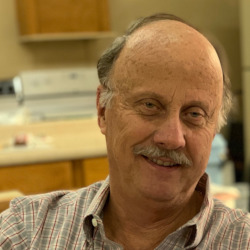 Dan Jones
Dan has been an Idaho native for twenty years and loves fly fishing. His beloved wife passed away a few years ago, and he remains close with his two grown children. He enjoys the loving fellowship of Trinity where he uses his gifts of teaching and administration.
His favorite verse comes from Proverbs 3:5-6
"Trust in the Lord with all your heart and lean not on your own understanding; in all of your ways acknowledge Him and He shall direct your paths."
Dan gave his life to Christ around nineteen years old and over time with the Lord's patience and kindness realized that serving Him fully was a joy and not a dry duty done sporadically. His passion is to serve the Lord globally through missions and is faithful to those opportunities the Lord opens to him.
---
Neil Halker
Neil is a longtime Idaho native, he's lived here for fifty years. He and his wife Dixie have four children and eight grandchildren. Neil enjoys singing with the Boise Chordsmen and tending his garden.
Some of Neil and Dixie's favorites verses are found in Ephesians 2:8-10
"For by grace you have been saved through faith, and that not of yourselves; it is the gift of God, not of works, lest anyone should boast. For we are His workmanship, created in Christ Jesus for good works, which God prepared beforehand that we should walk in them."
Neil is a long-time member of Trinity and enjoys the sincerity of the long serving members where he can use his spiritual gifting of giving. He was saved by grace about forty years ago at Trinity and through the years God has shown him that this world is a transition for the next life with Christ. He is excited for Trinity to grow with Pastor Laurian.
---
Jerry Frederick
Jerry is married to Viv and has lived in Idaho for fifty years and has two kids. Jerry is a farmer through and through, and is also Trinity's resident smart alec. Being a farmer has made him see that life in a lot of ways is like farming – you plant, you reap, you lose and sometimes you win. Life is going to be life no matter where you are and only God can fix it. He enjoys the close fellowship of Trinity.
Some of Jerry's favorite verses are John 3:16-18
"For God so loved the world that He gave His only begotten Son, that whoever believes in Him should not perish but have everlasting life. For God did not send His Son into the world to condemn the world, but that the world through Him might be saved. He who believes in Him is not condemned; but he who does not believe is condemned already, because he has not believed in the name of the only begotten Son of God."
Jerry admits he's a big pain in the neck, but the people of Trinity like him anyway.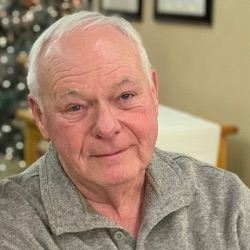 David Johnson
Dave spent a good part of his childhood in Idaho and always wanted to return. So, he moved his family to Idaho in the winter of 1987. The blizzard in Wyoming on the way did nothing to deter him. For more than 30 years, he's resided in Boise. He has served on various church and mission boards throughout his life. He's done everything from plumbing to accounting in his various ministry roles.
His strengths include patience and stewardship. He did after all marry a German from Kitzingen when he was in the army in the late 1950's. He has faithfully lived the principal of Proverbs 3:9 - Honor the LORD with your wealth and with the first fruits of all your produce. He has known that it does not promise wealth and an easy life, but God has made his path straight. Such is the promise for all that put their trust in Christ alone.